Plastic Surgeon Dr. Ivo D. Pestana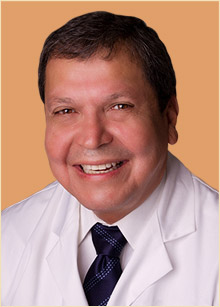 Ivo D. Pestana M.D. is a highly trained and experienced surgeon with specialized training in plastic and reconstructive techniques. Dr. Pestana, together with his professional and dedicated staff, has the singular goal of making your surgical experience a success.
Dr. Pestana is certified by the American Board of Plastic Surgery. He has over 25 years of experience in cosmetic surgery of the face, breast, and body. Dr. Pestana is a member of the American Society of Plastic and Reconstructive Surgeons and is a Fellow of the American College of Surgeons.
Dr. Pestana graduated from medical school at the University of Cartagena, Colombia in January of 1969. After working for a year in general practice in rural Colombia, he taught at the University of Cartagena before going on to complete a surgical internship at the Berkshire Medical Center in Pittsfield, Massachusetts, in affiliation with Albany Medical College. Dr. Pestana underwent additional training in Pathology at the Bridgeport Hospital in Connecticut. from January to June of 1972.
Dr. Pestana further honed his surgical skills during a 5-year General Surgery residency, at Bridgeport Hospital, affiliated with Yale-New Haven School of Medicine, where he was selected to serve as Chief Resident in General Surgery.
Dr. Pestana then went on to St. Barnabas Medical Center in Livingston, New Jersey where he completed his residency in Plastic Surgery. At this center, he had extensive training in cosmetic and reconstructive surgery. Dr. Pestana relocated to Florida upon completion of his residency. Since that time, he has become well known as an excellent cosmetic and reconstructive surgeon. In his office locale, Dr. Pestana has treated patients from diverse backgrounds, from both the United States and abroad.
Dr. Pestana maintains hospital admission privileges at Coral Springs Medical Center, Northwest Regional Medical Center, and at University Hospital. He performs outpatient surgeries in the hospital setting, the AHCA approved Outpatient Center at Coral Springs, as well as his office.